More people, in more places, are choosing AZEK Decking

Technology That Takes On The Elements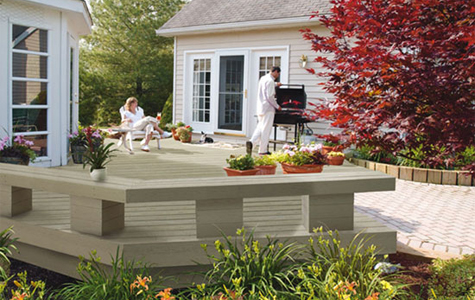 More people, in more places, are choosing AZEK Decking Systems for the same reasons: longer deck life, richer decking colors –– and more compliments from the neighbors who'll appreciate your investment in a smart, no maintenance, decking system. Just look at all you get with AZEK Decking Systems:
Enhanced Composite Performance — Engineered with solid–core, cellular vinyl that has no wood fillers to compromise deck performance.
Minimized Expansion and Contraction — Unlike traditional wood decking, AZEK Decking Systems contain exclusive Fibertech™ flax additives.
Long Lasting No Maintenance Color — Colorfast Solutions™ from Americhem, one of the industry's leading color experts, provides composite decking color that last.
Scratch Resistance Deck Materials — Strong, dense surface helps prevent grain loss or scratching to non–wood decking, even in high–traffic areas.
Stain Protection — Vinyl decking surface resists tough stains and allows for easy soap and water clean up.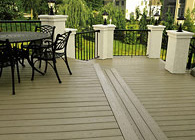 Mold Resistance — Vinyl deck formulation does not harbor mold.
Easy Deck Installation — No pre–drilling of planks necessary; permits counter sinking with no splitting or deck surface distortion.
Lightweight Decking Material — 30–40% lighter than the average alternative decking materials.
Limited Lifetime Deck Warranty — One of the strongest in the decking industry.
Insect and Termite Protection — Unique composite formulation does not attract insects or termites.
Environmentally–Friendly Decking — No harmful chemicals.
Product Sizes
Decking Planks are 5/4X6 and are available in 12′, 16′ and 20′ lengths. Rim Joist Covers are available in 1/2″ x 11–3/4″ and 1/2″ x 8″, and are 12′ in length.